"Estelle's Garden" of Boston's Pine Street Inn is enclosed by a sculptural, organic Gateway and Relief Panels designed and created by Dimitri Gerakaris. This decorative project was a happy collaboration with Landscape Architect Jennifer Jones of Carol R. Johnson & Associates.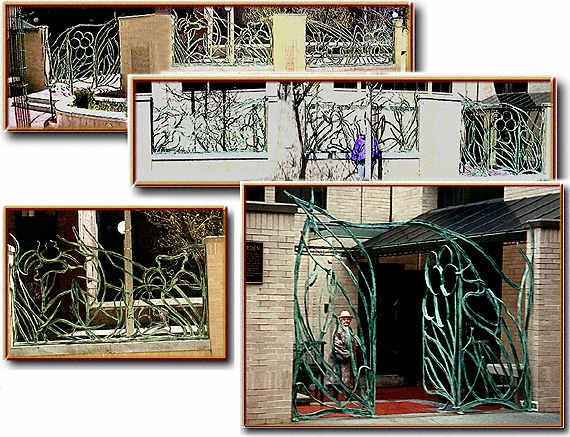 Click here for more detailed views
The Pine Street Inn of Boston includes in it's activities a 100-bed shelter for homeless women . The garden provides a safe place off the streets where women guests of the shelter can enjoy an inviting and nurturing garden in the heart of a hard-surfaced industrial and transportation neighborhood.
---
Return to Art-Metal HomePage
For more information, please contact:dg@art-metal.com
Dimitri Gerakaris
Architectural & Sculptural Metalsmithing
The Upper Gates Road
North Canaan, New Hampshire, 03741
USA
Telephone/FAX: 603.523.7366
All material on this Web page Copyright © Dimitri Gerakaris, 1997-99
artwork, sculptures, public, custom