Hot off the Fire! - New works by Dimitri Gerakaris...
(and works just recently published. )
---
" Kingston Jamaica Railing"
This railing for a residence in Kingston Jamaica is loosely based on motifs from the embroidery of Chinese imperial robes.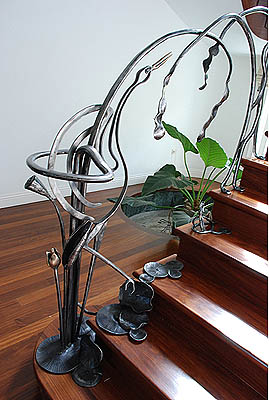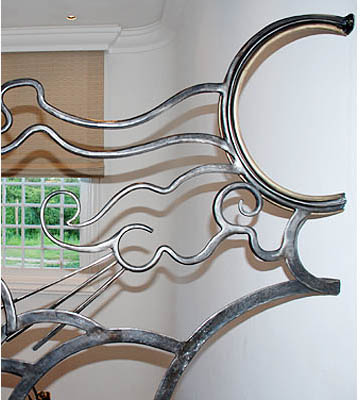 Please CLICK HERE to see more.
---
"Dragons Balcony Railing"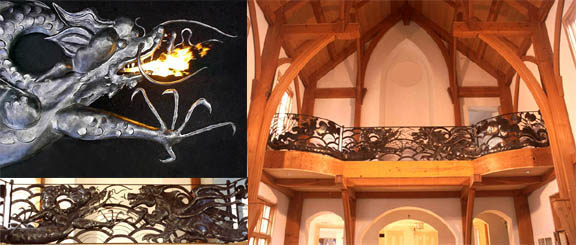 This piece for a residence in New Canaan, Connecticut reflects the Chinese and British heritage of the clients. It includes not only the respective dragons of these cultures, but relative plants, such as peonies and thistles, and other cultural elements. It also reflects the inward bending beam structure of this "Great Room"
---
"Wall Reliefs"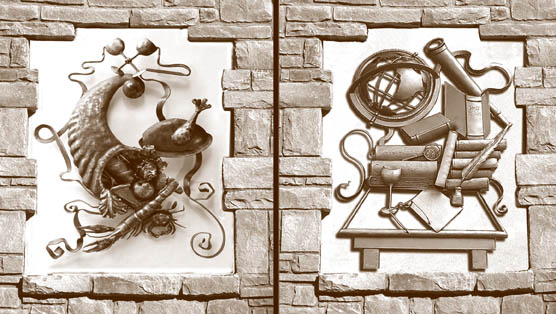 Two of four wall reliefs for a residence. Located in limestone clad niches outside the building, they denote the function of the rooms within. Seen here are the Dining Room and Study Reliefs.
---
"Woodside Continuum"
Commissioned by the New York Metropolitan Transit Authority Arts in Transit program for the station where tens of thousands of commuters daily transfer from the subway lines of the New York City Transit Authority and Long Island Railroad, this work of seven panels traces the history of rail travel and the community. CLICK anywhere on the picture for a page with more images and information about this work...
---

Wall art designed for and shown in the residence of the US EMBASSY in Port of Spain, Trinidad under the auspices of the US Department of State's "Art in the Embassies Program". This piece celebrates the positive alternatives we face in life. It furthermore reflects the region of the US in which it was fashioned.
---

"Estelle's Garden" of Boston's Pine Street Inn is enclosed by a sculptural, organic Gateway and Panels designed and created by Dimitri Gerakaris. The Pine Street Inn of Boston includes in it's activities a 100-bed shelter for homeless women .
For a page with more photos and information, click on the image or click here...
"Seated Figure"
This seated figure is a line drawing, forged of steel, in 3-dimensional space reposing on a granite block. It is to serve as a memorial for the individual portrayed.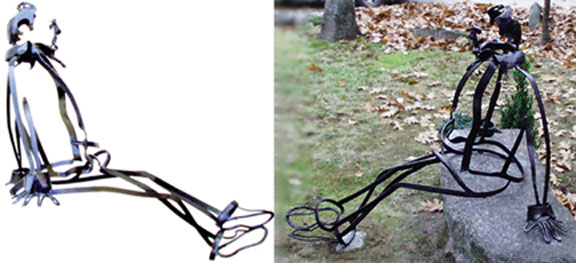 ---
Wine Cellar Gate
---
all designs & images © D.Gerakaris
Updated March, 2010
Be sure to BOOKMARK this page and return for the many updates.
new,contemporary, ironwork, artwork, sculptures,metalwork,Dimitri Gerakaris,artist, metalsmith