Architectural & Sculptural Metalsmithing
by Dimitri Gerakaris
---

Residential Railings/ Narrative
---
This five-story railing for a New York City brownstone was designed and built to provide flow and continuity. It is very loosely based on the imagery of William Blake's "America, A Prophesy". Suggesting the flow of evolution from the time of creation, this work interjects an element of the mystery of Nature into an urban environment.
---
TO QUICKLY NAVAGATE: Low resolution, thumbnail photos are used to download quickly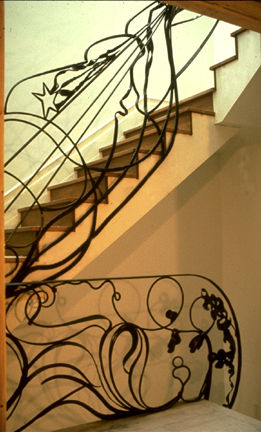 and provide a rough idea. Click on any framed photo and you will get a bigger, better image.
---
---
For more information, please contact: dg@Art-Metal.com
Dimitri Gerakaris
Architectural & Sculptural Metalsmithing
The Upper Gates Road
North Canaan, New Hampshire,03741
USA

Telephone/FAX: 603.523.7366

---

ALL material on this Web site Copyright © Dimitri Gerakaris 1996-98 a.r.r.
LAST UPDATED Jan, 1998