Residential Commissions
by Dimitri Gerakaris, Introduction

---
This part of the Web site contains information about Residential Commissions such as Railings, Firescreens, ArtGates, ReliefSculptures, Freestanding Sculptures, and Miscellaneous Residential items such as: Furniture, Lighting, Architectural elements and specialty pieces.You can click on the categories above for a direct link, or you can first see the overview below. Once the overview downloads, any of the thumbnails can be clicked for an enlarged image or the text clicked for pages with text and images about those topics. Additional topics can be found via the site INDEX. And of course, feel free to e-mail with questions at any time.
---

Relief Sculptures

ArtGates

Firescreens
FreestandingSculptures

ResidentialRailings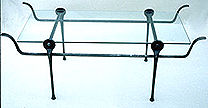 Misc.Residential Items
---
Home
Index
ArtGates
PublicArt
CorporateArt
Process
---
For more information, please contact: dg@Art-Metal.com
Dimitri Gerakaris
Architectural & Sculptural Metalsmithing
The Upper Gates Road
North Canaan, New Hampshire,03741
USA

Telephone/FAX: 603.523.7366

---


ALL material on this Web site Copyright © Dimitri Gerakaris 1996-99a.r.r.
LAST UPDATED August, 1999
interior decorative ironwork, furnishings, balconies, garden & fireplace items & design by wrought iron artist, Dimitri Gerakaris (blacksmiths)