Residential Sculptures & Reliefs
by Dimitri Gerakaris
Click here for Dimitri Gerakaris' updated Wall Relief site: http://www.wallrelief.com
---
The bas-reliefs below illustrate the broad range of styles available from geometric to flowing, organic artwork. All work is custom designed for each particular location.
---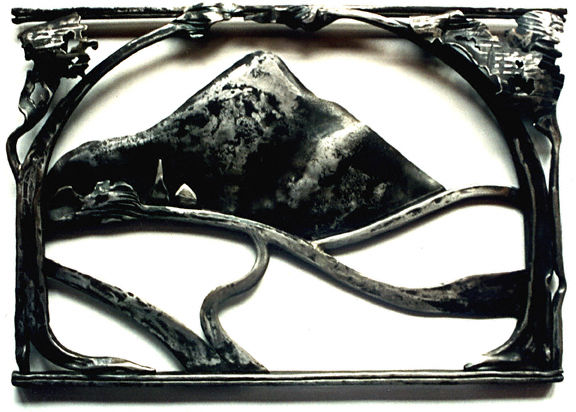 "The Road Taken"
Artwork designed for and shown in the residence of the US EMBASSY in Port of Spain Trinidad, this bas-relief celebrates the positive alternatives we face in life. It also represents the region of the Ambassador's US home. Forged steel, 20 x 30 x 3 inches.
---

This piece, above a fireplace, was designed by the sculptor to reflect the taste of the clients - they collect African art. It furthermore provides a visual anchor with mass and texture plus animation and counterpoint for the airy and rectilinear wall of glass. Please click on image for detail view.
---
"Kokopelli"
Wall relief for a collector of Native American art. Forged of steel and measuring 26 x 47 x 2".
Kokopelli is the ancient American Indian God of Abundance who is said to have roamed the hills of the southwest.
Depicted in ancient rock carvings as a humpbacked flute player, he was believed to bring fertility and good fortune to whomever he met. His arrival was marked by celebration, dancing and singing.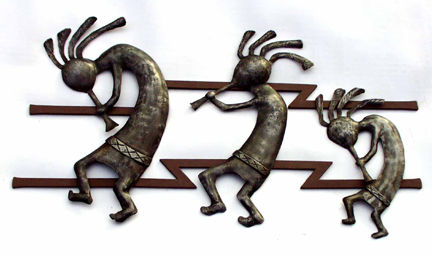 ---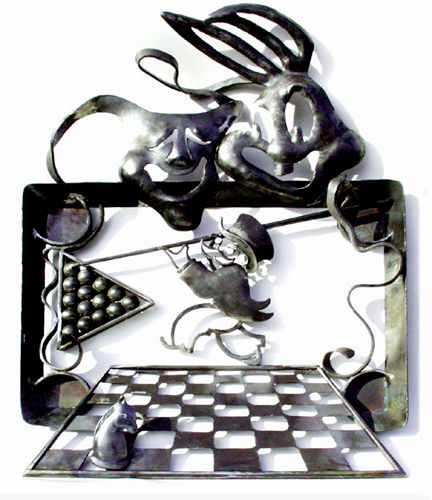 "Game Room Relief"
This 4.5 x 5 ft. steel forging designed to hang on a chimney wall depicts pleasures to be enjoyed in this game room plus the name and profession of the clients.
---

This relief was designed by the artist as an element to relieve the large expanse of wall above the fireplace. It was also designed as a reflection of the clients' aesthetic preferences and picks up on the geometric lines of the architecture and adjacent painting.
Please click on image for close-up view.
---
How the Design & Commissioning Process Begins
---
To see Freestanding sculptures, click here.
To see Public Art Reliefs, click here.
To see Public Art Gateways, click here.
---
Home
Index
ArtGates
Residential
PublicArt
Corporate
Process
---
For more information, please contact:dg@Art-Metal.com
Dimitri Gerakaris
Architectural & Sculptural Metalsmithing
The Upper Gates Road
North Canaan, New Hampshire, 03741
USA
Telephone: 603.523.7366

All Material on this Web site copyrighted 1997-2007
Last Updated April, 2007