Public Art
GATEWAYS
by Dimitri Gerakaris
Click here for Dimitri Gerakaris' updated Wall Relief site: http://www.wallrelief.com
For Public Art other than Gateways (such as reliefs, freestanding sculptures, fountains, etc.) click here.
---
TO QUICKLY NAVAGATE: Low resolution, thumbnail photos are used to download quickly and provide a rough idea. Click on any framed photo and you willget a bigger, better image. Click on highlighted text and you will link to more information about that topic plus other thumbnail images. For your convenience, this page contains a navagation bar below and e-mail link.
---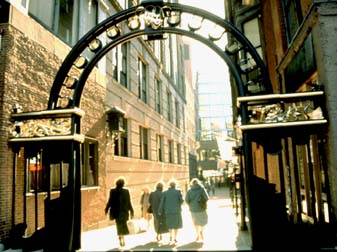 BOYLSTONPLACE GATEWAY. Boston. Forged bronze and color-galvanized steel. 19x24x6ft (5.8x7.3x1.8 m).1988.Linking Boston Common to the Theater District. For more details...
---
EAGLE SQUARE GATEWAY.Concord, New Hampshire. Forged and color-galvanized steel. 40x27x7 ft (12x8x2m).1983. Entrance to a new city square in the capital of New Hampshire.

--- WAVES GATEWAY. Boston. Forged and color-galvanized steel. 11x60x5.5 ft (3.4x18.3x1.7 m). 1992. On the site of "Old Harbor Village" within view of the Atlantic.

---
Home
Index
ArtGates
Residential
PublicArt
Corporate
Process
---
For more information, please contact: dg@Art-Metal.com
Dimitri Gerakaris
Architectural & Sculptural Metalsmithing
The Upper Gates Road
North Canaan, New Hampshire, 03741
USA

Telephone/FAX: 603.523.7366

---
Please return for updates
LAST UPDATED August, 1999
ALL material on this Web site Copyright © Dimitri Gerakaris 1996 -1999 a.r.r.
artists, sculptures, public art