Architectural & Sculptural Metalsmithing
by Dimitri Gerakaris/ Art Gates
Gates have a tremendously important role in architecture. They are the first impression. They not only identify the entrance and set the guide lines for entry beyond, but set the whole tone for what lies ahead. And they arethe focal point of transition.
---

GARDEN GATES are very special. They set a tone of welcome and transition and allude to the magic of the garden,which in practically all cultures, is synonymous with the idea of Paradise.

---

ENTRY GATES can be an attractive and tasteful way to keep out unwanted traffic.

---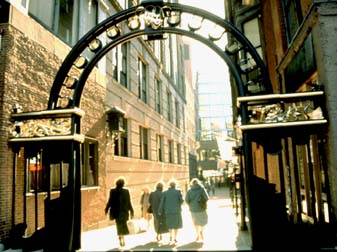 GATEWAYS, on the other hand,identify an entrance and invite all to enter.

---

Residential and Commercial wrought iron gates can perform a limitless array of functions. This particular gate, for instance, because of structural and spatial limitations of the supporting walls, had to be made in two sections (the demarcation is a zig-zagging line off the center) and its highly specialized task was to safely separate dogs and cats at feeding time. Please refer to the Residential &/or Corporate
---
To learn more about the design process and how to commission a gate, please click here.
---
---
For more information, please contact: dg@Art-Metal.com
Dimitri Gerakaris
Architectural & Sculptural Metalsmithing
The Upper Gates Road
North Canaan, New Hampshire,03741
USA

Telephone/FAX: 603.523.7366

---
ALL material on this Web site Copyright © Dimitri Gerakaris1996 -99 a.r.r.
LAST UPDATED August, 1999