Garden Gates are very special. Setting the tone of welcome and transition, they also allude to the magic of the garden beyond...


---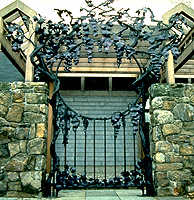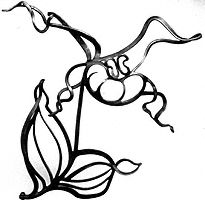 WISTERIA GATE (left) is set against an arbor to be planted with real wisteria, which will naturally grow into the overthrow of the arch (click here for more).
YELLOW LADYS' SLIPPER (Cypridedium) GATE is to be set at the edge of a meadow where many of its namesake grow in profusion. (Click here for more).
---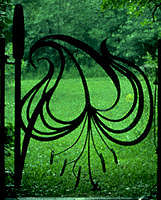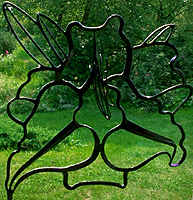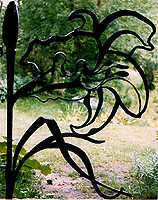 LILY GATES. Just like the flowers they portray, there are really no two exactly alike. It is sometimes very effective to plant a mass of the flowers that are portrayed around the gate.

---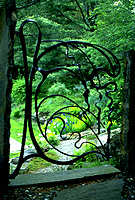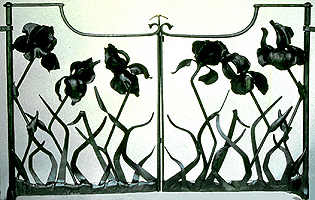 A WILLOWY GATE and an IRIS GATE. These "Art Gates" are all one of a kind. During the barren months, they provide pleasure by reminding us that the growing season is never really far away.

---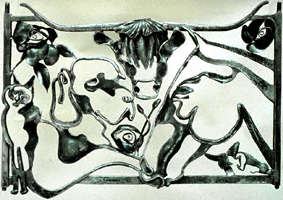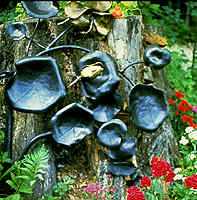 ALL CREATURES GATE depicts various animals found on the farm where this gate is located. NASTURTIUM GATE will not get zapped by the hardest frost.

---
The gates depicted above are but an inkling of the infinite possibilities for garden gates. To learn more about the design process and how to commission work, please click here.
---
---
For more information, please contact:dg@Art-Metal.com
Dimitri Gerakaris
Architectural & Sculptural Metalsmithing
The Upper Gates Road
North Canaan, New Hampshire,03741
USA
Telephone/FAX: 603.523.7366

---

ALL material on this Web site Copyright © Dimitri Gerakaris 1996 - 2002 a.r.r.
LAST UPDATED August, 2002
gates, garden gates, art, artgate,public art,wrought iron, gates, artist,sculpture,custom,sculptures,garden art, arches, archways, memorials,arbors, landscape, home and garden.