Park Sculpture
---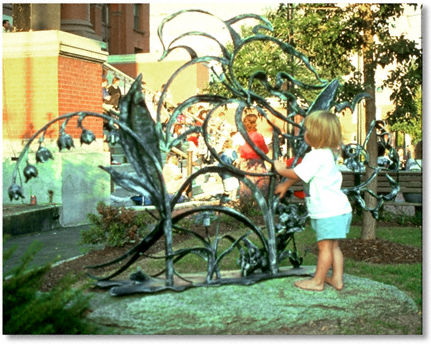 GARDEN SCULPTURE for Cambridge, Massachusetts' Centanni Park.

Forged and color-galvanized steel. 4.5 x9 x3 ft (1.4 x2.7 x1 m). 1990. Commissioned by the Cambridge Arts Council.

The artist, who often takes his ideas from the environs, found a profusion of neighborhood gardens and chose to replicate some of the flowers in them. Here, a young member of the community investigates the smooth and flowing forms.
---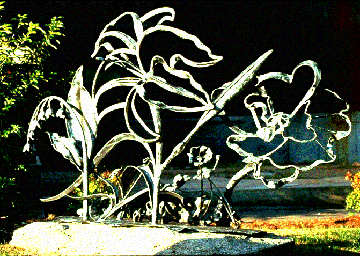 This sculpture portrays floral forms found in the neighborhood life-sized and realistically at the base of the sculpture and also portrays these same plants much larger than life in a more abstracted manner in order to bring the viewer's attention to the fascinating, flowing forms these plants exhibit.
---
To see other public sculptures, click here
Home
Index
ArtGates
Residential
Other Public Art (Gateways)
Corporate Commissions
Process
---
For more information, please contact: dg@Art-Metal.com
Dimitri Gerakaris
Architectural & Sculptural Metalsmithing
The Upper Gates Road
North Canaan, New Hampshire, 03741
USA

Telephone/FAX: 603.523.7366

---

ALL material on this Web site Copyright © Dimitri Gerakaris 1996 -1999a.r.r.
LAST UPDATED: December, 1999